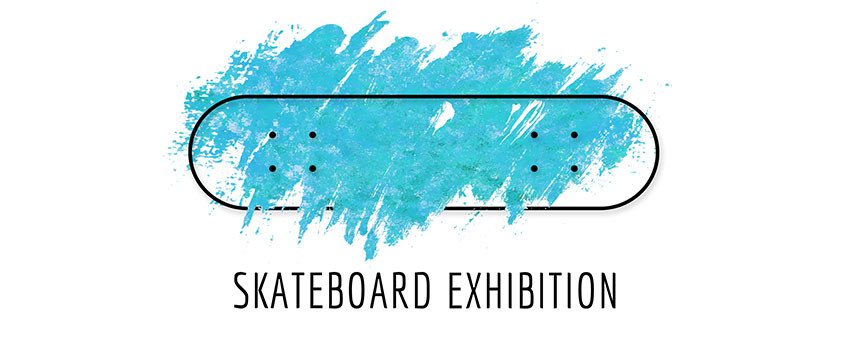 [vc_row][vc_column][vc_column_text]News: I will take part in a little skateboard group show this friday May 5th. It will take place in the bar "Das Gift" in Berlin-Neukölln until May 7th. See attached flyer done by Silvia Guizan. I am still working on the skateboard and hope it will turn out the way I want to. I will film the process and make a little video after the exhibition.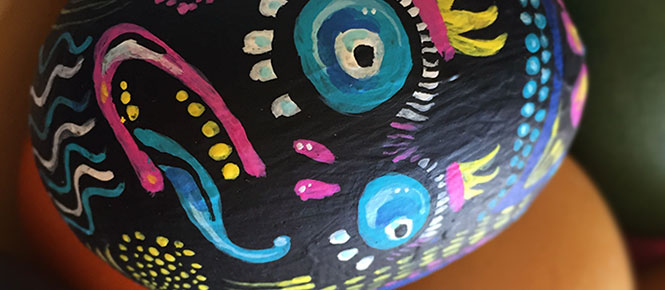 Late as usual, my Easter 2015 entry; the once a year-painting-eggs-weekend at my family's place (on the beautiful countryside). Everyone who is visiting is asked to paint an egg or bring a painted one that can be added to the collection. This "event" is accompanied by a glas of wine, audiobooks/music, "Tatort", conversations. This year my eggs were inspired by Alebrije art (less or more). I have to admit I ruined all the brushes. You know.....blame them DETAILS.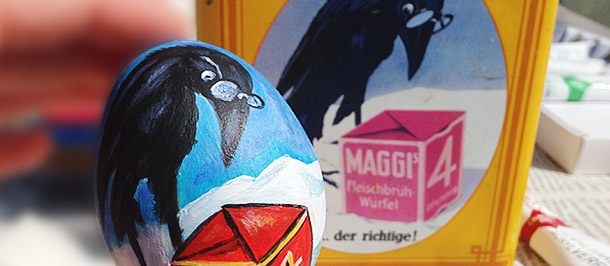 Belated entry on our traditional familiy Easter egg painting. It was sunny, a bit of wind, no snow and a few wild rabbits were running over the grassland. All in all a very pleasant day somewhere on the countryside. I wonder why I only do this once a year. I can recommend to do it monthly. Use anything (sharpies, watercolors, acrylics, chocolate) to pimp the eggs. And painting in a group...is even better. Except blowing the eggs out sucks, it´s....ugh. It´s a saxophonist´s job. On the other hand: lots of omelet.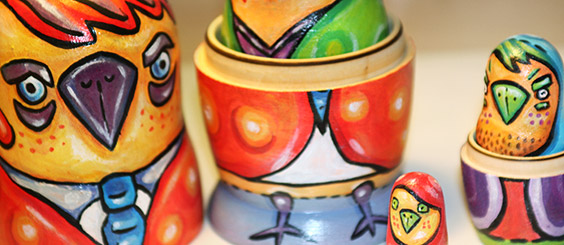 I painted my first Matryoshka batch! Before I could have a good look I gave them away as a Christmas present. So I am left with these photos. I am not very happy with the varnish. It doesn´t dry as fast as it should. The surface of the object feels a bit sticky, even after a few days, which is too long. I experimented with different temperatures and made sure to have a thin coating...but not much changed. I need something that ist dry as a bone within 24 hours the latest. But I am too lazy, still, to google for insight.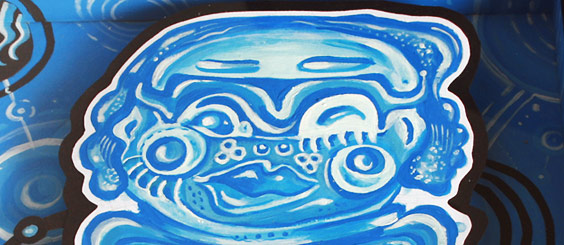 "Drive" soundtrack is on. I bought it instantly after watching the movie. I think it was the first time (since I was a teenager?) that I went to sleep with earphones in my ears. Here is a painting on different layers. I have not much to say about it except that I did something similar before with scribbles. You can see it here.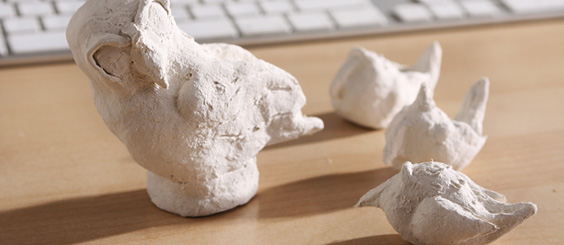 Two eyes at work. One is watching an episode of "Mad Men" while the other one is setting up this entry. I am tempted to gossip about Peter Campbell but I should stay focused and babble about my clay experience. If feels like the last time I put hands on this stuff was 9400 BC. I gave it another try simply because the package said "ready-to-use-water-based-modelling-clay" and "air-drying". No baking. They even had clay for the microwave. Sounded as though even I could do it. It took a couple of attempts before it started to look like a bird instead of a squeezed alien. Tools were a toothpick and my hands. I stored the rest of the clay in the fridge, next to the green pepper and my polaroid films. That´s all there will be for dinner if I don´t go grocery shopping soon.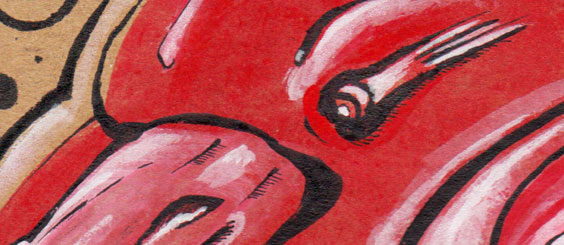 It almost took me longer to set this entry up than painting the bird. Some problems with inserting  images. Oh Wordpress, why art thou this weird sometimes? And whenever it seems that I have solved a problem successfully and have a "hurray" and "clapclap" moment, then, of course, something else doesn´t work. Without wp-support forums I would have probably jumped out of the window, long time ago. Anyway, here is the red bird I painted yesterday to relax while listening to audio tapes ("Die Drei Fragezeichen"). A mix of ink and acrylics on cardboard.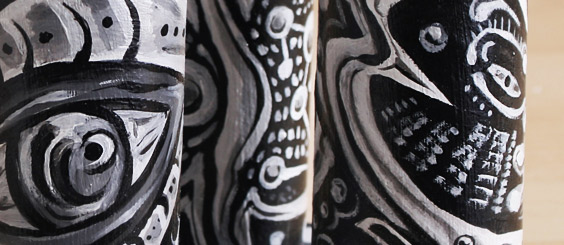 My drawing pens usually lie all over the place and often when I grab one nearby it´s  dried out. Don´t we hate that.  So I cleaned up a bit and thought about getting some pen stands as well. I´ve already painted a couple of toilet rolls which should do the trick. I am a little clumsy when it comes to handicrafts but as long as I only have to glue 2 pieces together: I can do it!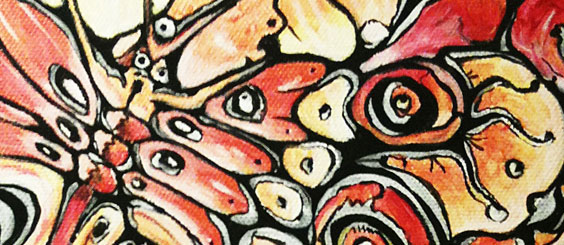 Some have asked me why I have chosen the name "ejaculesc" for my website, which I have even troubles to pronounce when people ask me for the URL. Not to mention all the spam comments I have to disapprove.  I feel this painting is a good answer. I recently found it when I  visited my dad over the weekend. I painted it about 5 years ago.  It was a nice suprise because I have somewhat forgotten about it´s existence. But I remember it was one of first paintings I had done after a very long break of not touching a brush or a pen.  It´s also interesting to see how I was using these organic elements already back then, even much stronger than in my current works. But most of all I am glad I still like what I did.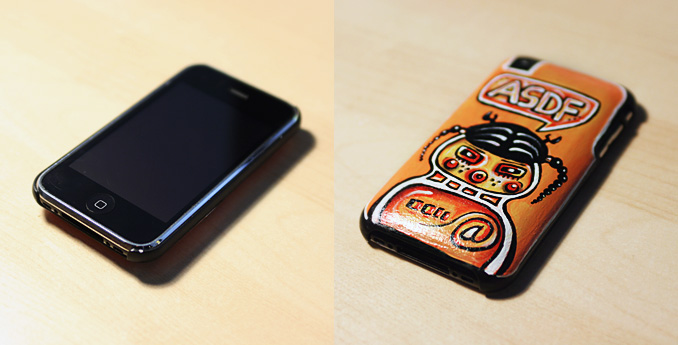 When I  painted my iPhone case with acrylics I wasn´t sure how long the paint would actually last since it´s an object that is in daily use.  So far everything seems good.  The phone already fell down and no scratch,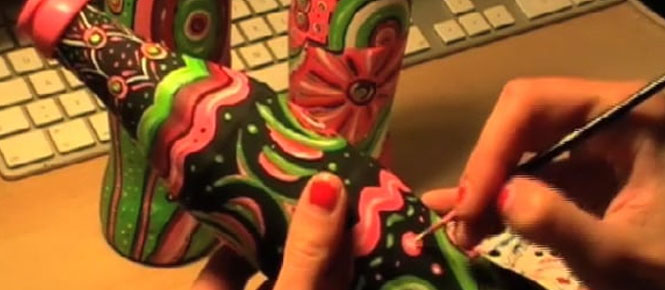 I recently painted some coca cola bottles. Here is the making-of video <--- click to watch on VIMEO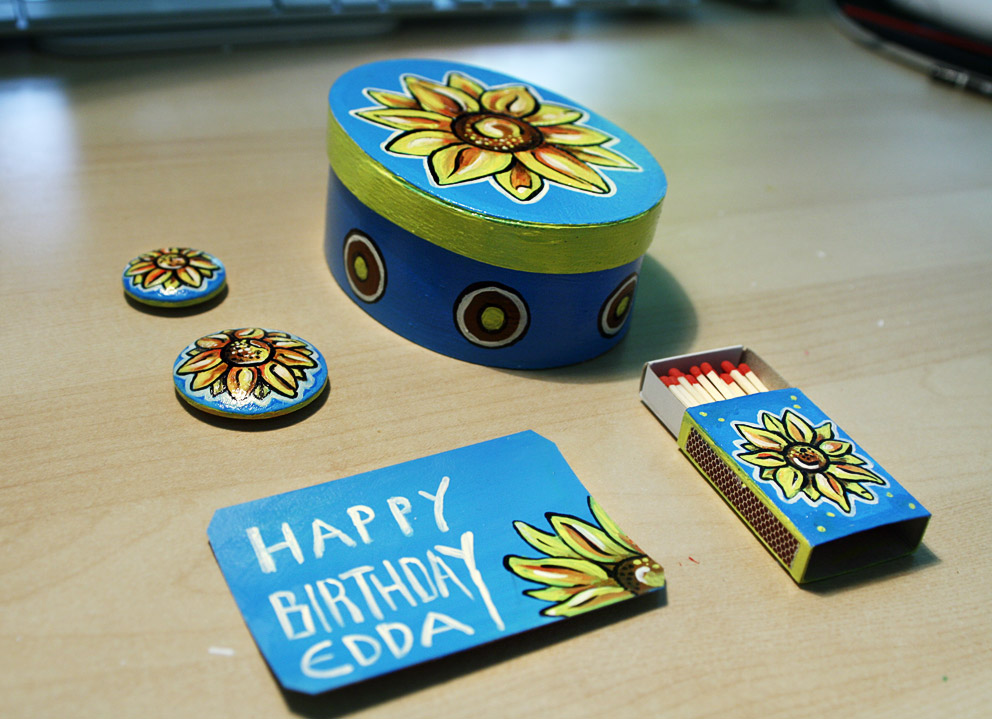 I really like to get handmade presents myself so that´s why I make them for others. Whether they like it or not. Ha. This was an B-Day present for Edda. Acrylics on matchbox, 2 magnets, card and box.